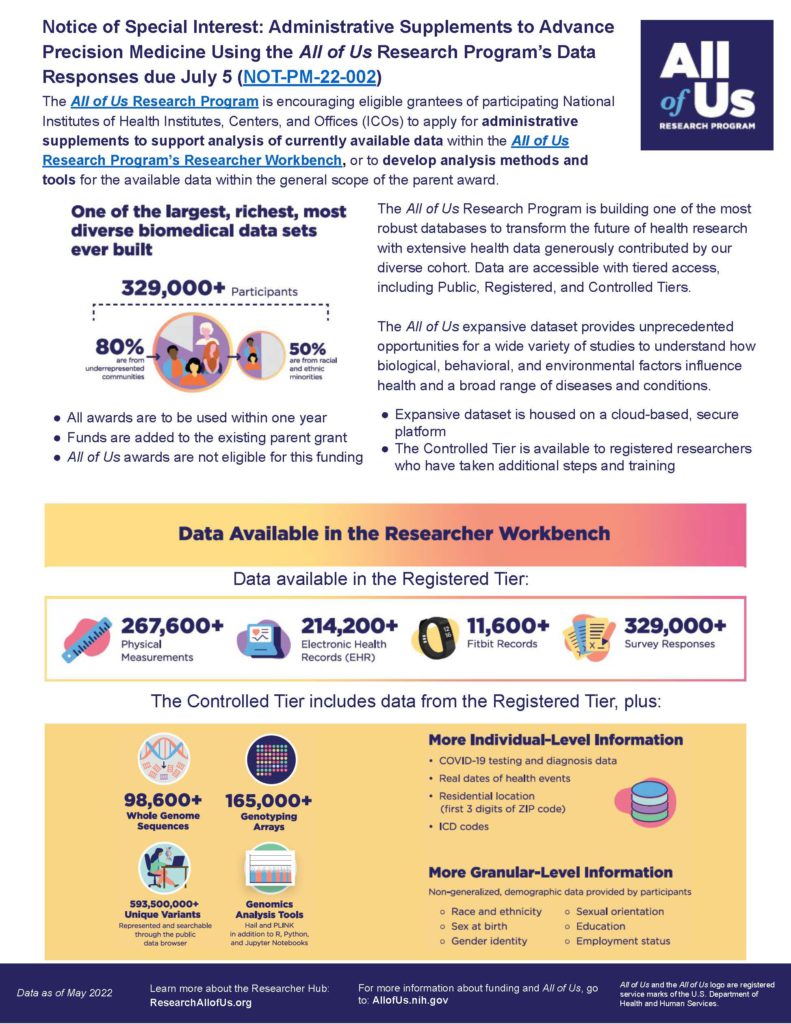 The NIH Office of AIDS Research (OAR) is working with All of Us Research Program to advance precision medicine
All of Us to award up to $2 million in FY22 to support projects funded by NIH partners, including a commitment of $500,000 from the NIH OAR
The NIH OAR is one of 29 institutes, centers, and offices from across the National Institutes of Health that is working to support research that uses the All of Us Researcher Workbench. Current awardees with active projects focused on HIV and AIDS supported by participating institutes, centers, or offices may submit applications to be considered for supplemental funding available through this Notice of Special Interest.
Applications must make direct use of the rich data that are available through the cloud-based All of Us Researcher Workbench. The integrated dataset includes nearly 100,000 whole genome sequences, survey responses from nearly 330,000 participants, and information from 214,000 electronic health records, alongside physical measurements and wearable device data. Currently, HIV data is available on 4,300 participants. About 80% of the data in the Researcher Workbench is contributed by participants who represent communities that are historically underrepresented in research, including people from racial and ethnic minority groups, people from sexual and gender minority groups, and residents of rural areas.
Projects that propose research on COVID-19 exposure, treatment, and Post-Acute Sequelae of SARS CoV-2 (long COVID), as well as other high-priority areas as outlined by NIH partners in the NOSI, are encouraged. As just one example, registered researchers can access information from participants who were infected with SARS-CoV-2 and continue to experience symptoms long past the initial stages of illness. These clinical, lifestyle and behavioral experiences can be compared with those from participants who recovered quickly or who have had no evidence of disease.
All of Us intends to commit up to $2,000,000 in Fiscal Year (FY) 22 to fund up to 20 awards, subject to availability of funds and the quality of the applications. NIH OAR intends to commit an additional $500,000 to fund supplement awards to parent grants focused on HIV/AIDS. Applications will be accepted until July 5, 2022. For more information, including details on responding to this opportunity, view Notice of Special Interest: Administrative Supplements to Advance Precision Medicine Using the All of Us Research Program's Data.
All of Us is a registered service mark of the U.S. Department of Health & Human Services (HHS).