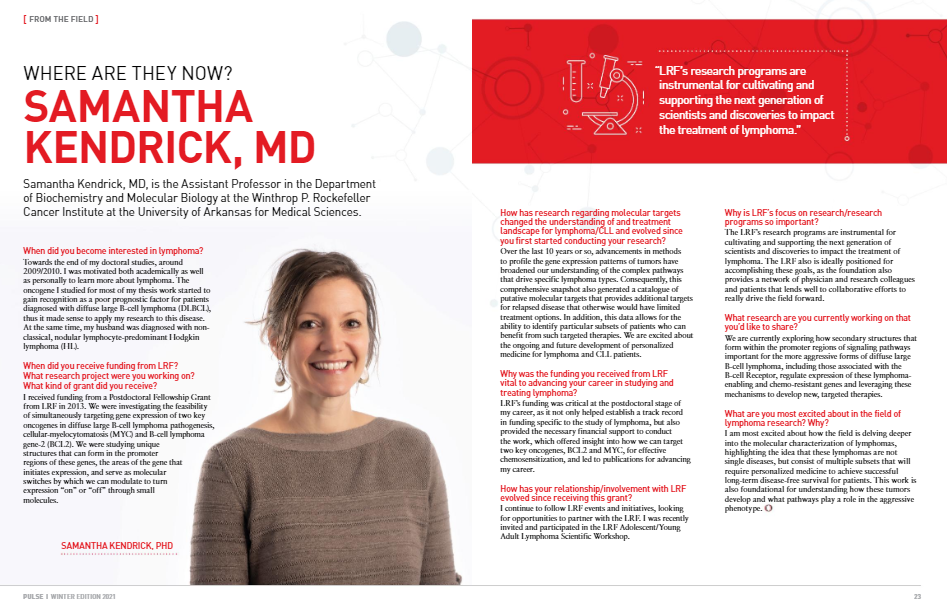 The ACSR celebrates Samantha Kendrick, PhD, who is featured on pages 24-25 the winter issue of the Lymphoma Research Foundation Pulse magazine for a discussion of her research on diffuse large B-cell lymphoma. Dr. Kendrick was 1 of 4 inagural ACSR Young Investigator Pilot Award (YIPA) recipients (2015). Cheers to you, Dr. Kendrick. The ACSR wishes you continued success!
The ACSR YIPA is targeted toward junior investigators and faculty with innovative ideas for translational, clinical and/or behavioral-epidemiological HIV-related research that utilizes ACSR's annotated biospecimens collected from people living with HIV/AIDS and controls from both pre and post-HAART periods. Awards are intended for pilot studies to show feasibility and/or to generate preliminary data that will support efforts to procure future funding of larger research projects.
The announcement of the 2021 ACSR YIPA recipients is coming soon! Stay tuned!